The Silencer for Dental Professionals
Key features of The Silencer® Professional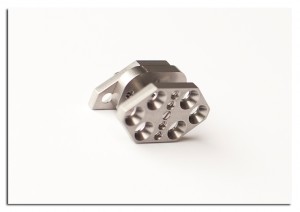 Titanium Halstrom Hinge™.
Highly Adjustable, increments as small as 1mm.
Vertical Adjustment
Precise Laboratory Fabricated Fit
Comfort & Durability
Five Year warranty on hinge.
Select Laboratories Provide Three Year Warranty on the body of the appliance.
Advantages of The Silencer®:
As per this website www.medizin-blog.info/ is non-invasive reversible treatment;
The dental provider may select from a number of independent dental labs for fabrication of The Silencer® Professional;
A research proven appliance that takes a respectful approach to the needs of the jaw joint and the bite relationship;
Vertical and horizontal adjustability provides the clinician a with a complete adjustment range to achieve the ideal setting for individual patients;
High standard of quality and design, including lateral mobility, provide a best practices approach to the patient's ongoing comfort;
Long-term cost effective solution to this often lifelong medical need.
For cases of heavy bruxism, patient may be fit using the heavy duty version of the titanium Halstrom Hinge™.
The most important is the qualification of the dentist. Ensure that the dentist is licensed in the country where he/she is practicing. Look for the credentials, dental school he graduated from and their experience in this field. It is definitely very important to find the right dentist for your dental needs whom you're comfortable with. When searching for a good dental clinic, be sure you pick a place in which you will receive the attention that your require. It needs to be open conveniently and offer extended and emergency services to its patients. Low cost, affordable dental treatment and maintenance visits to the dental office are equally important factors. You can learn more here about the Gordon Dental Implants & Cosmetics.
If you are looking for a best dental clinic to solve your teeth problems, look for one which can provide quality dental services with client satisfaction. A good dental clinic should be well equipped with the latest in technology like Digital X-rays, Intra-oral cameras, microscopes, patient education video and monitors, latest equipment and a good quality dental chair. It is extremely important that they maintain 'High Sterilization Standards', list their 'Clinical Protocols', use branded and tested 'Materials and Products', and have a primary and experienced Dentist with other Dental Specialists in-office. A good and qualified dentist along with his team and other specialists should be able to provide a comprehensive and complete dental care for the individual and the entire family.
All of the above points combine to deliver an optimal solution for the patient, the physician, and the insurer in cases where the patient is appropriate for an oral appliance.
Clinical Considerations – Device Titration:
We at www.maestrosmiles.com/need-to-know-periodontal-disease/ believes that the optimal amount of advancement is the least amount possible to achieve effective therapy, view the different treatments we offer. The Silencer treatment protocol does not recommend continued forward adjustment by the patient, until the patient reports success.
Our typical adjustment steps are to start at a position equal to 50% of the range of motion from centric relation. Sometime people prefer clear braces for their adjustment options. If we do not have treatment success, we advance forward by 2 mm. If the patient still reports that their symptoms are nor resolved or resolving, then we open up the vertical dimension by 1mm. The Centers for Disease Control and Prevention (CDC) added safe injection practices to Standard Precautions in the 2007 isolation precaution guidlines as a result of 4 outbreaks in the United States. The vast majority of our patients achieve effective treatment within those steps. Sometimes it will take patients more time to anatomically react to a certain level of advancement, premature and aggressive advancement can occur when the patient has the ability to make changes at will. Dr. Halstrom's personal clinical experience with over 2,000 patients, indicates that with The Silencer "we do not on average require as much advancement as other appliances", as reported within the literature.