Success Stories
World's Loudest Snorer: Treated with the Silencer
Indeed in 1994 Dr. Halstrom treated Mr. Mark Hebbard then the Guinness Book of Records – Worlds Loudest Snorer.
The Silencer reduced Mark's snoring from 90 decibels down to ZERO. His sleep apnea fully treated.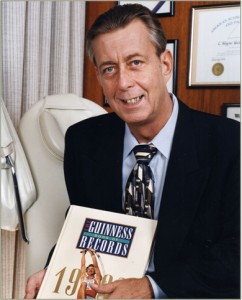 More Client Testimonials
View some of our video and written testimonials below!
Charles from Victoria, BC
Dear Dr. Halstrom, I write this letter to express my profound gratitude for the change in my life that your anti-snoring device brought about. My heavy snoring and the severe sleep apnea put a heavy strain on my marriage, caused two minor rear-enders as I fell asleep behind the wheel and nearly killed me as I drove off a rural road at 80 kilometers per hour at 10:00 am in the morning. Immediately after using your device my sleep was restored, snoring and apnea disappeared and my marriage restored. I also noticed a change for the better in my mood and outlook on life. My friends and acquaintances have commented on that. My advice to people that are snorers like me is to get this device as soon as possible.
Dr. Al Gerretsen, Canada
WOW what a difference! The first night was a bit tough but not bad. The second night was much easier and I was able to keep it in all night. On Thursday I had No NAP in the afternoon and then believe it or not, I drove to North Vancouver to tell a group of Doctors about the Usana product and business. I gave myself two and one half hours to get there since I expected to need to stop several times as usual to sleep for a few moments. That has been my life for a few years. I got there in just over one hour and I drove non-stop, never got tired At ALL. Then, at 10PM I drove home again and still not tired!!!! My life is coming back and I have to thank YOU for that. I have told so many people already that I truly expect you will get an onslaught over the next few months from my talking. Those who know me can not believe the difference.
Randy D. Smith, Canada
Randy is 27 years of age and suffers from Obstructive Sleep Apnea. His earliest memory of having a snoring problem was at eleven years old when his older brother attempted a solution by shoving a sock in his mouth. He ended up sleeping in the same room as his father, as well a renowned snorer. Misery loves company.
Randy has this to say after receiving his Silencer:
Thank you for this opportunity to express my utmost gratitude for what you have done for me! My life has been a lot more enjoyable due to my new appliance. In ten years I have never felt the amount of energy that I do now. Even my sleeping partner can't believe the difference. Thank you for giving me my life back.
Lorne D. Kerry, D.D.S., USA
In addition to practicing general dentistry Dr. Kerry has specialized in the study of head, neck and facial pain for the past 25 years. Dr. Kerry started by solving the snoring problems of his sons. So successful was The Silencer for his families snoring that Dr. Kerry now wears The Silencer every night.
The boys had this to say:
"Dad, I love it. For the first time in my life I woke up rested, full of energy, and not needing coffee to feel civilized. Thank you Dad, it's fantastic." "This was the best gift ever received and it is possibly a life saving one."
Dr. Kerry states:
"The advanced design of The Silencer make it the least cumbersome, most comfortable and effective appliance which should be considered first choice for the treatment of snoring and where medically appropriate Obstructive Sleep Apnea."